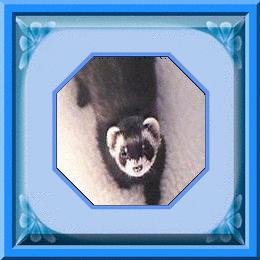 Tara Snyder-Parrish
Missing Tara
Dear sweet Tara, our TT, our Tara Toodle. You were our perpetual motion machine for all these years. When all the others slept you tootled after your dad and me. A tiny little bundle of total joy:) forever smiling. Eyes as black as coal and fur as shinny as the stars at night. Your dad always said you had the perfect little ferret body...all rounded. You would bound back and forth like a rocking horse and throw your little head and dook dook and weasel war dance when you were excited! And how you LOVED beating up your favorite toy, taking it in your tiny mouth and banging it back and forth on the floor. Your dad and I have laughed soo many times while watching you do that:)
Your sudden crossing has left your dad and me in totally stunned disbelief. We will never know why but somehow I think that maybe you missed your brother Bear and longed to be with him again. We've watched you search through the last spots he was in before he left us only such a short while ago. You curled up quietly in his sleep sack. Maybe that was your way of trying to let us know that you were going to leave us.
Whatever your reason,we are going to miss you so very much! You were so loved and our hearts break with yet another loss in our little ferret family.
Just know we love you Toodle. You will always be in our hearts. Always and forever! You have become another bright star in the heavens.
Missing you TT
mommie Joyce and daddy Mark