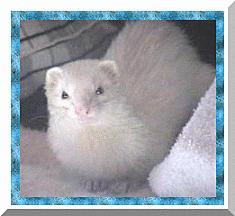 Goodbye Sweet Cassie
STAR LIGHT ~ STAR BRIGHT
You're the first star I will see tonight. Our dear sweet Cassie, your name, Cassiopeia, was perfect for you. They are the five brightest stars in the constellation. And you, dear Cassie, were like a glowing star in the heavens.
I can remember the first time I saw you...ohhh soooo tiny. You weighed 1 1/2 pounds your entire life but you gave the others a run for their money. As you grew older you became more beautiful with that lovely silver fur and your jet black eyes. You and your sister Delilah loved to come running when dad played with the squeekie toys. It was a race to see who could get there first:) And when you danced all four feet would come off the floor with the little jump you had. You had such boundless energy and such a love of life. And you always gave the sweetiest good night kisses. Bedtime was the only time you would bestow those little bits of joy:) How hard it is to realize that you are truly gone.
It seems life really isn't very fair for such sweet babies as you and your brothers and sisters. You have brought us such joy and love only to have such a short time with us here. The end of your life came all too quickly, my sweet baby. But your dad and I know you are dancing again with your brothers and sisters. Give them a kiss from us for we send all the love that we have to each of you.
And tonight when your dad and I watch the skies, we will see you shining up above us, living up to your name in glorious splendor.
Farewell our beloved Cassie. May God hold you close to His heart for now and forever as we held you to our hearts here in this life.
Love You Baby Girl!
Your Mommie Joyce and Daddy Mark