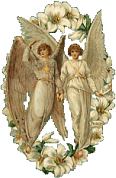 For Chloe
When I brought you home
for my family to meet,
with those beautiful eyes
and face so sweet.

I knew you'd bring joy
for years to come,
you lit up my life
my little one.

But years pass too quickly
you were a baby no more,
and you no longer raced
when I opened the door.

I had a bad feeling
at breakfast today,
that you were trying to tell me
you were going away.

I held you my baby
for the last time at noon,
why did this have
to happen so soon?

When you left you took
a huge part of my heart,
guard it well my baby
for the time we're apart.

It won't be forever
and I know you will wait,
for our happy reunion
at heaven's gate.



Written by: Carol Marion
for Regia Foran and her sweetheart Chloe.


If tears could build a stairway, and memories build a lane, we would walk right up to heaven and bring you back again.
No farewell words were spoke, no time to say goodbye.
You were gone before I knew it, and only God knows why.
My heart stil aches in sadness, and tears they still flow.
What it meant to loose you no one will ever know.
But now I know you want me to mourn for you no more.
To remember all the happy times you gave me, since the time you were born.
Since you will never be forgotten, and are thought of in each day.
A hallowed place within my heart is where you will always stay.
Until the day we meet again...I Love you...